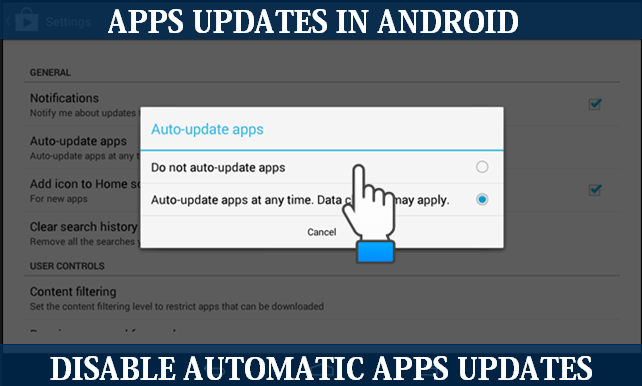 Android application by default automatically updates from Google play store. If any apps updates and have change some features then it make changes on your app by updating app automatically but you can disable this setting by following below steps.
Android 5.0 have different setting on Google play store but don't worry we will show you how can you disable automatic app updates on your android device quickly and easily.
First of all let's start the steps to disable android auto updates.
To off automatically updates on android is easy just follow our steps.
Touch Google play store icon on your home screen.
In Play store Just touch on menu button which on top left hand side corner.
Touch on setting option on Menu.
Now, you can see "Auto-update apps" option in general setting option then you have to check this message if it say "Auto-update apps at any time. Data charges may apply" that means your automatic app updates is off or enable but we have to off this updates then follow below steps.
Touch "Auto-update apps" option in general setting and dialog box will appear then choose "Do not Auto-Updates app" option.
Now back with your back button and done.
If you are using Google nexus 7 then you have to hold your device in landscape mode and you will go on "my screen" here you can see your all apps and can stop automatic updates of any app on your device. Just choose the app there and uncheck "allow automatic updates"
Let's Disable Auto Updates in Android 5.0 version
To disable auto updates apps in android 5.0 version is easy just follow below steps and off auto apps updates.
Open play store and touch on menu icon on upper-left corner of your device.
Now go to "Settings" option under menu.
Now you are in general setting and you can see "Auto-Updates Apps" option here.
Click on "Auto Updates Apps" and dialog box will appear on your screen.
In dialog box choose "Do not auto-updates Apps".
Done
I hope the above steps will help you to off auto updates app in android device. If you have any query then you can ask by comment below.