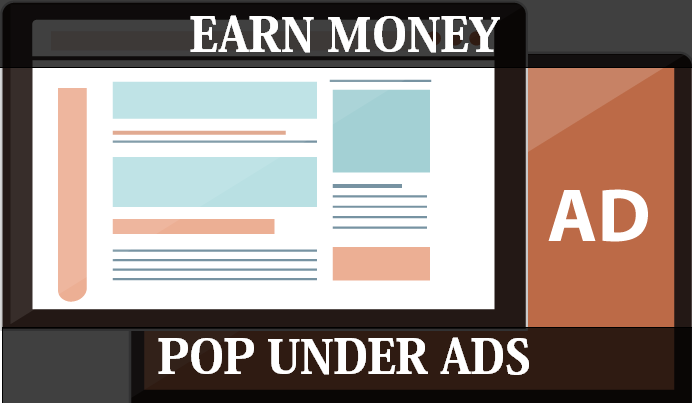 Everyone wants to earn money online but they don't have any idea to work online and don't know how to deal online. Earning online money is quite simple if you have ideas then you can earn huge money every day or month.
You can earn money online if you have a blog or website, making money online is easy when you have a blog. You can make free blog on blogger.com or can purchase your own domain to start a brand new blog. There are several ways to earn money online like Google AdSense, media.net, Infolinks, affiliate marketing, paid posting and more but when your website isn't compiling with their policies and they never approve your ads request then you can earn money with pop under ads.
There are many Pop under ads website like popads.net, adcash.com and more but before you apply for the pop under ads, make sure you have good traffic your blog. If you have good traffic on your blog then can earn huge money with pop ads and other ads.
You can earn 1$ per thousand visits, now you can assume how much money you can earn daily if you at least 20k daily visits then you can earn around 10 to 20 $ daily depend on your traffic location. If you have good traffic from Europe countries then you can earn 15 to 20$ daily on 20k visits.
How to Get Pop under ads Publisher account
I know this question is arising in your mind but getting Publisher account in Pop Under ads network is easy you can get instant approval or have to wait some days. You can start instant earning via pop under ads which is a good feature to earn instant.
Remember: Before you apply and Pop under ads network don't forget to read their reviews and payment proof because there are lots of online scammers. After reading reviews you can create account in pop under network websites.
How to add Pop Under ads on website or blog
Almost all the pop under ads network have a java script code and you can add the java script code in your website footer section and you don't need to do anything.
Pop Under Ads is good for gaming, application, videos type websites and you can add any website but don't use pop ads network if you don't have good traffic because visitors don't like pop ads.
Read also: Infolinks: The best Google AdSense alternative
We hope this tutorial will help you to earn online with Pop under ads, like our Facebook fan page and get latest updates from our website.