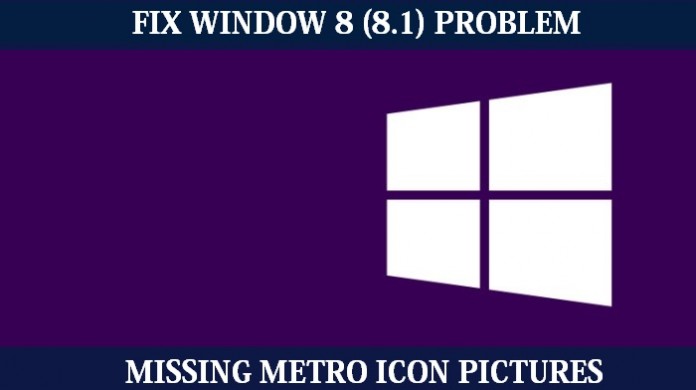 Automatic updates from window 7's desktop to window 8's metro UI may get you in trouble. It's very annoying when you window 8 icon pictures automatically replace themselves with rectangular box-like images [].
This is very complicated situation when you face that types of problems and think to reinstall the window or ignore the secret altogether. Actually, you don't need to install window again because we have the solution in this article and you have to follow below steps to overcome from this problem.
Causes
This problem occurs when your system font "Segoe UI Symbol" misplace or damaged and result your system window 8 or 8.1 metro UI icons get affected.
This problem may arise after upgrading window 7 to window 8 or 8.1 or because of third party other software may replace the default file with older version of windows and display unknown icon when window fail to find the desired object.
How to Fix
Below are some methods to fix this problem. Just follow below steps and solve this problem easily.
# First method: SFC Scan
You need SFC scan to find the corrupt/missing files on your computer & its help to fix the corrupted or missing files automatically. First follow this first method & may your problem fix in this first step & follow below steps for SFC Scan.
Press Window + X key and click on Command Prompt (Admin)
Open Command Prompt (Admin)
Command Prompt (black screen window) will open.
Type SFC /SCANNOW and hit Enter in Command Prompt.
Wait for complete scan of your system (it may takes 1 to 2 hours)
Restart your computer to get changes in your computer.
Now open your computer Interface and check if this method solved your problem. If the problem is still showing then follow below method.
# Second Method: Install the File Manually
You can solve this problem manually by copy of original "Segoe UI Symbol" font and installing into your computer and this method is much better to solve the error completely in easiest way and this method will remove the error completely.
Follow below steps and solve the problem manually.
1st method: Copy the font from another window 8 system:
First open another window 8 system (ask for your friends).
Open Run box by pressing Window key + R Key
Type Fonts in run box and press Enter
Find Segoe UI Symbol in the Fonts
Copy the fonts and paste in your pen drive or other external storage device.
Now, just transfer the fonts file in your troubling computer.
2nd method: Extract From Windows 8 Setup ISO
This method is also easy if you have Window 8 Setup ISO then you can extract seguisym.ttf which is present in Windows\Fonts Folder.
Learn extracting windows files from window setup by following below steps.
First insert Window 8 Setup Disc
Now open window setup disc in your computer.
Right click on Window 8 IOS (wim) and open with Win RAR or 7-Zip
Open the extract folder of window 8 and copy the desired file
3rd Method:  Download Segoe UI Symbol Font directly
If you are not good in computer skills to perform the above steps then you can download window 8 Segoe SI Symbol font from this link download the window 8 Segoe SI Symbol font. Download & extract the zip folder and find seguisym.ttf
Now install the extracted file by right click on the file and choose install. If prompted to replace the existing copy the click Yes
All done! After installation of corrupted file restart your computer and the icon will come in perfect shape & your problem will fixed.