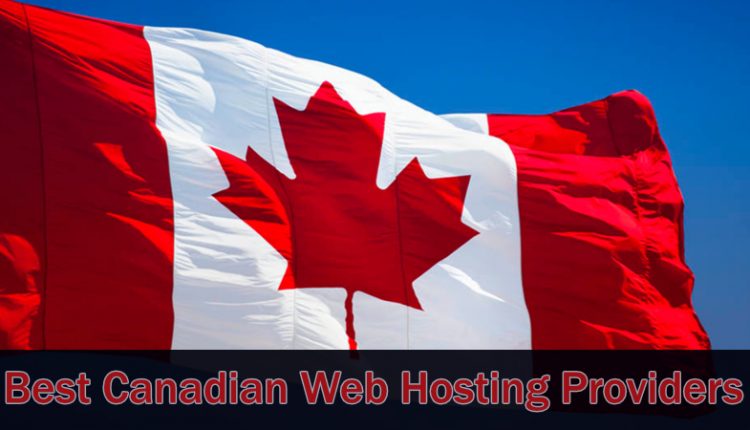 Top 5 Canada-Based Web Hosting Providers in 2018
A select list of steadfast Canadian website hosts
Whether you are Canadian or not, there are several Canada-based web hosting companies that provide reliable services and first-rate customer support, which you can take advantage of for your current or upcoming online project.
Canadian web hosting can be the perfect alternative if you do not want to host your website(s) in the US, especially that Canada has relatively better privacy protection laws than the USA.
The following are five of the best web hosts that offer various shared and dedicated plans from Canadian data centers.
1. Web Hosting Canada (WHC)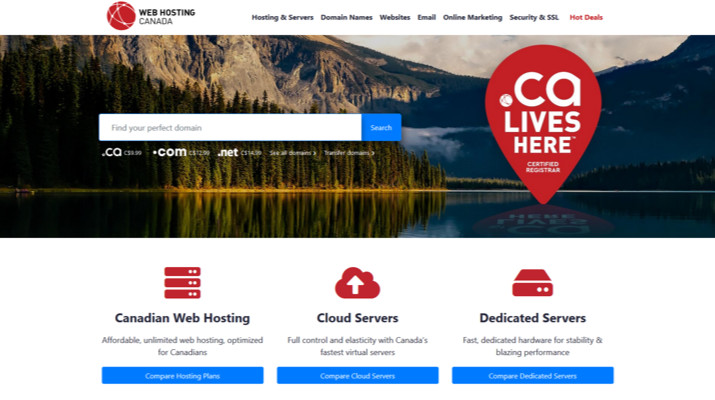 Click to Visit Official Website
Web Hosting Canada is an outstanding website services provider based in Montreal, Quebec. They offer many website hosting plans including shared, VPS, reseller, and dedicated servers. They also offer a managed WordPress plan with reasonable prices, which is a quick way to get started with a new WordPress powered website.
WHC have data centers located in Montreal and Vancouver.
Pros
Reasonable prices with ample features.
Free SSL with most plans.
24/7 support via email, live chat, phone.
Multiple payment methods including credit cards and PayPal.
Cons
Only basic level technical support is provided via chat. Advanced requests require opening a ticket.
2. 247-HOST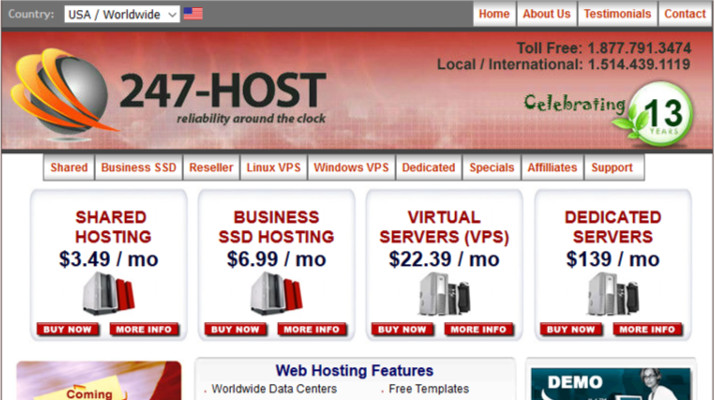 Click to Visit Official Website
247-HOST is a small web hosting business located in Montreal, Quebec. They provide solid hosting services including shared, business SSD, VPS, and dedicated plans.
I have been using this provider for some of my websites for more than a year and I am very happy with the level of service and support they offer. I haven't experienced a single downtime so far, and I would 100% recommend them.
247-HOST have their Canadian servers in a Montreal data center. They also offer hosting in other locations including the USA, Europe and Asia.
Pros
Friendly and knowledgeable support via email, chat and phone.
Competitive pricing and lots of included features.
Free SSL certificate (Let's Encrypt).
Affordable business plans with SSD storage and extra server resources.
Cons
Live chat is not available 24/7.
This could just be me, but I think their website is in desperate need of a makeover!
3. Canadian Web Hosting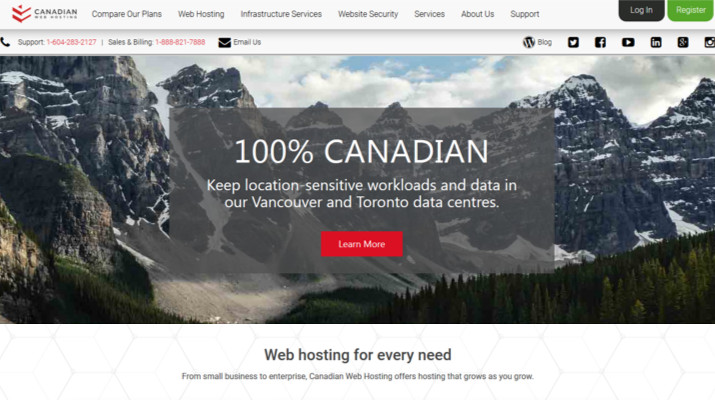 Click to Visit Official Website
Canadian Web Hosting is one of the oldest all-Canadian web hosts that has been in business since 1998. They offer a wide range of services, from entry-level shared hosting up to enterprise-level virtual private servers and dedicated servers.
Canadian Web Hosting's data centers are located in Toronto and Vancouver.
Pros
Competitive prices for shared and VPS plans.
27/7 customer support via email or phone.
60-day money-back guarantee.
Cons
No live chat support.
No free SSL certificates with shared hosting.
4. CanSpace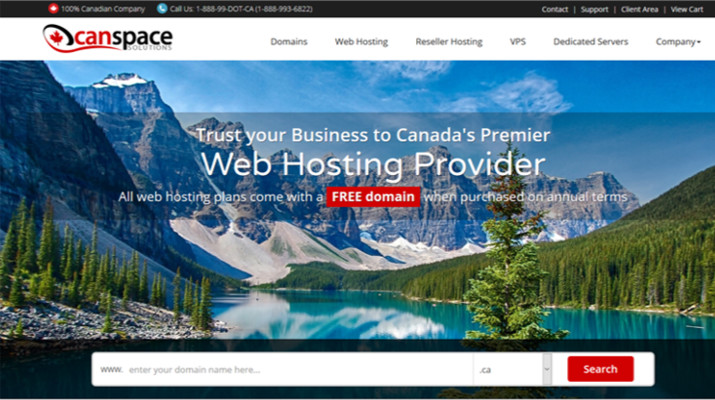 Click to Visit Official Website
CanSpace is a reputable Canadian web hosting company that serves many businesses and organizations of all sizes, including some Canadian government organizations. Their services include shared hosting, VPS, and dedicated servers.
Pros
24/7 email support.
Free SSL certificate.
Powdered by green energy.
Cons
5. HostPapa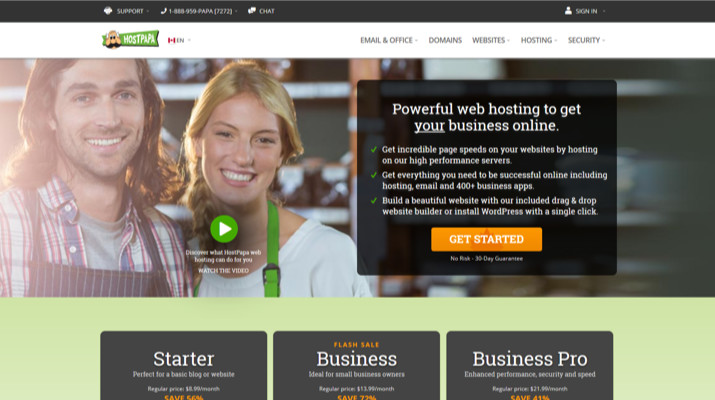 Click to Visit Official Website
HostPapa is a multinational web hosting company that is headquartered in Ontario, Canada, with branches in the US, UK, EU and other countries around the world.
This provider offers various shared, VPS and reseller hosting plans. They also offer a WordPress-optimized plan with enhanced performance and security features for websites that are powdered by WordPress.
HostPapa's Canadian data center is located in Toronto.
Pros
Prompt, around-the-clock technical support via live chat, phone and email.
Free Let's Encrypt SSL certificate.
Cons
Their shared hosting is not recommended for high traffic or business websites. Better fits small or new websites.
How Can Canadian Hosting Affect Your SEO?
The location of your website's hosting server can have direct and indirect effects on its rankings in Google and other search engines.
If your business only targets Canadians, it is best to have a .ca domain name and have the website hosted by a Canadian provider.
Search engines automatically favor the ".ca" domain extension (.ca is a ccTLD) in Canadian SERPs (Search Engine Results Pages), which means it is more likely to rank higher than other domain extensions (TLDs). And having your hosting server located in Canada means faster load times for users in Canada, which also has an impact on search rankings.
But keep in mind that these are only two of many factors that Google and other search engines take into account when ranking websites in their SERPs, so while it helps, don't expect any overnight SEO magic to happen!
Canadian Hosting for non-Canadian Websites
If your main target audience is US users, you can also consider using a Canada-based host. In fact, a lot of websites hosted by Canadian providers target Americans and users worldwide.
Since most Canadian data centers are geographically close to the US, data transfer speeds for users in the USA will be almost the same as US-based data centers. That means there will be no significant difference in the website's load times, and actually some Canadian data centers may even be faster for some locations within the USA.
Another thing, some Canadian hosts offer globally distributed, cloud-based CDN (Content Delivery Network) services aimed at optimizing content delivery speeds for users across the world.
So even if your website's visitors are from many different countries, going with a Canadian host instead of a US one is an option worth looking into. One of the considerable added advantages is that you can protect your business from aggressive "lawful" privacy intrusion practices seen by some US governmental agencies.
If you are interested, you can read more about Canada's privacy laws here and here.